MEET OUR TEAM
Ennis Home Furniture is eight years in operation at the Quin Road Industrial Estate. The business has grown year on year to the point where we doubled the showroom in size in March of 2019.
Stockists of numerous brands to cater for all your furniture needs, Ennis Home Furniture is up-to-date with the latest trends and are happy to offer expert advice to potential customers (free parking is an added bonus).
They specialize in all areas from suites, bedroom furniture, mattresses; to traditional and contemporary dining furniture, rugs, lamps, television units and more.
From one-off purchases to complete fit-outs, Ennis Home Furniture offer their services across the county and as far afield as Galway, Limerick and Cork.
WHAT YOU CAN FIND AT ENNIS HOME FURNITURE
Our Mattresses
Ennis Home Furniture boasts one of the best mattress collections in the mid-west. All our mattresses are Irish made and come from suppliers throughout the country. We offer immediate delivery on all mattresses in stock. So for the perfect nights sleep, be sure to check out Clare's best mattress collection by clicking the link below.
Ennis Home Furniture Mattresses
Our Home Furniture
At Ennis Home Furniture we want to help you transform your home into the ultimate blended space, with our wide range of solid oak and pine desks, to suit every home. We offer free delivery and assembly on all office desks and office chairs. Check out Clare's best selection of office furniture by clicking the link below.
ENNIS HOME FURNITURE OFFICE WEAR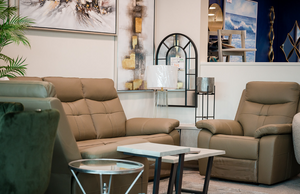 Our Occasional Furniture
It wouldn't be a visit to Ennis Home Furniture without browsing our extensive range of occasional furniture. We offer click & collect on a wide range of telephone, lamp and coffee tables. While we offer Clare's most diverse range of rugs, lamps and cushions. We want to give you a home to be proud of so click the link below to explore more.
ENNIS HOME FURNITURE OCCASIONAL
Location
OPENING HOURS
Quin Road Business Park, Quin Rd, Ennis, Co. Clare
Mon -Fri, 9:30am -6pm
Saturday 9.30am - 5.00pm